Back

For more than 50 years,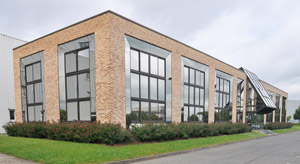 SOFADI has been a key player in the tertiary and commercial interior fitting sector. SOFADI designs, develops and sells slot-channel systems, brackets and profiles allowing for the  establishment of an all-round merchandising system primarily for commercial spaces.
1959 : Setting up of SOFADI, for SOciété de FAbrication et Diffusion (fabrication and distribution co.), which specializes in the design and marketing of products and systems for the fitting out of sales areas.
1995 : Launching of the concealed slot channel and of a line of DMA accessories designed by Eric Morvan.
2000 : Takeover by the INSTALLUX Group, which has a shop fitting range of its own.
2003 : Merger of SOFADI and TIASO corresponding to the INSTALLUX Group's decision to set up an interior fit-out entity (in the wake of Installux Aluminium for residential/non-residential building and Roche Habitat for ready-to-install products).
2007 : Launching of a polycarbonate socket combined with the Ellipsys® range of  accessories.
2008 : Extension of the Mitry-Mory Site allowing SOFADI to centralize all of its stocks and to improve its service quality.
Launching of the Look 100 steel range with the traditional SOFADI 37-mm pitch.
2010 : Evolution of the concept with the presentation at the Equip'mag exhibition of the Ellipsys® 2 accessories range destined to the M19 slot channel.
2011 : Presence at the Euroshop exhibition in Düsseldorf. Launching of the Look 101 steel range and of the Dot® minisocket.
2012 : New products, new image, new Web site.
A Product Offer for Tailor-made Installations
The design of sales areas is a complex matter. The development of shop-fitting projects faces many constraints, such as budget, time, image, etc. Designers can find on the market a wide choice of solutions for floors, ceilings and lighting. Materials and finishes are infinite and follow either transient or long-term trends.
Once the concept has been defined there still remains the important and difficult task of designing efficient units for the day-to-day display of all kinds of products. A good knowledge of presentation and merchandising systems is required to achieve the desired results.
Thanks to the extent of its offer, SOFADI is able to meet all the constraints of unique, tailor-made projects adapted to the specific needs and activity of each trade.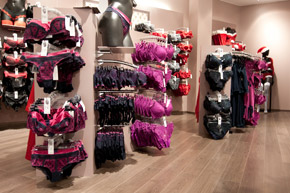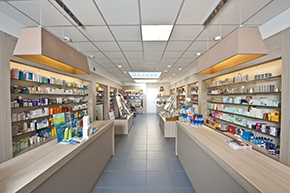 Various Marketing Circuits
Traditional SOFADI products such as the renowned systems for pharmacies are locally available through domestic hardware distributors. This system offers the advantage of rapidity and proximity.
Ready-to-wear ranges are sold directly to interior fitters, joiners, chains, etc.
Sales abroad follow the same pattern.