Shop Wall 2
The SHOP WALL 2 range provides professionals with an optimised solution to combine panelling and shopfitting for the ready-to-wear or pharmacy/perfumery sector.
The understated merchandising blends into the boutique concept thanks to the perfectly integrated panelling channels.
Finish profiles harmoniously complete the system, allowing the panelling of inside and outside corners without interrupting the look of the boutique.
Product Plus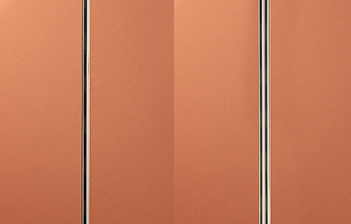 Specifically designed for 19 mm panels, the channels lie flush with the panel surface, thus perfectly blending into the panelling concept for an unobtrusive look. No need lo laminate panel edges which means simple use and money-saving.

The panel fixation system using visible cleats and the corner cladding concept simplifie installation and save time.

The corner profiles are designed to make the concept fully customisable. The shop-fitter can opt for an anodised finish, powdercoat them or laminate them with a finish to match the cladding panels.
Materials and details
Slot channels
Materials Aluminium
Details AS: Satin silver anodized
Profiles
Materials Aluminium
Details Mill finish
Powdercoated
AS: Satin silver anodized