Soft Classic Alu
The SOFT CLASSIC ALU range with its curve-shaped accessories has the historic, timeless Sofadi look. This system gives the designer a total freedom to conceive any merchandising project. Various bracket lengths allow for adapted display of any type of product.
The brackets are made of an aluminium alloy accepting (silver or golden) anodized finish.

Product Plus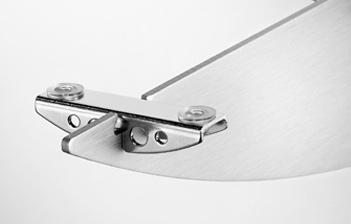 Saddles fitting into the notched brackets secure good hold of both glass and wood shelves.
Materials and details
Slot channels
Materials Aluminium
Details AS: Satin silver anodized
O4S: Satin gold no. 4 anodized
ANNO: Satin black anodized
Shelf brackets
Materials Aluminium
Details AS: Satin silver anodized
O4S: Satin gold no. 4 anodized
ANNO: Satin black anodized