Swift
To get things exactly right, the grid so important in graphic design has been adapted for a similar application to sheets of steel.
Volume is achieved in the resulting surfaces by simply folding, which gives the accessory rigidity and allows the brackets and clothes rails to be assembled by an elementary slot-together system.
The rigorous design achieves an attractive simplicity which allows the accessories in the SWIFT range to unobtrusively blend into the background, focussing all the attention on the products on display.
Product Plus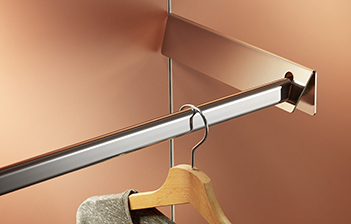 The brackets and clothes rails are quickly slotted together without any tools necessary, thus reducing installation time and facilitating changes of merchandising.

Two designs, one solid and one perforated, are offered for discreet or more original shop fittings.

A choice of three standard finishes (nickel, black nickel and white powdercoated) to customise the fittings to suit the brand or displayed product.
Materials and details
Slot channel
Materials Aluminium
Details AS: Satin silver anodized
Accessories
Materials Steel
Details Nickel
Black nickel
White powdercoated