Dot 2,
Slot channel
The DOT 2 accessories fit into a satin silver anodized slot channel (M19), which is inserted in a router-cut slot in a 19-mm panel.
The channel is fixed at the backside of it, showing only a narrow groove, which is perfectly coherent with the minimalistic look of the accessories.

Product Plus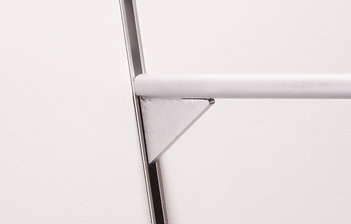 Choice of finish for more creativity: matt or bright chromium plating. Minimalistic hook contributing to the lightness of the accessories and letting the attention focus on the displayed goods.
Materials and details
Slot channel
Materials Aluminium
Details AS: Satin silver anodized
Accessories
Materials Steel
Details CH: Chromium plated
CHS: Satin chromium plated