Loft I,
Socket and horizontal rail
The accessories of the LOFT 1 range have been designed to fit either into a socket or into a horizontal rail.
The sober and elegant LOFT 1 socket all but disappears behind the accessory and stays discreet even when unused. It is fixed with two screws at the backside of a machined panel.
The modularity of the horizontal LOFT 1 system makes precisely tailored merchandising possible. It may be fitted into a slot in a single panel or run through several adjacent panels. Cut to various lengths it gives the shop designer great creative freedom.
Product Plus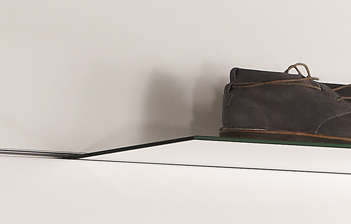 The design of the horizontal profile makes it possible to fit in a 6-mm glass shelf without any bracket. Wood shelves may be fitted in by using a specific, totally concealed bracket. Both these systems achieve shelf display units of great lightness.
Materials and details
Socket & horizontal rail
Materials Aluminium
Details AS: Satin silver anodized
Accessories
Materials Stainless steel
Details Brushed