Square Design Alu
The SQUARE DESIGN ALU range offers the professionals a great variety of modular applications with wood or glass shelves. Various brackets lengths allow for adapted display of any type of product, which leaves the interior designer total freedom.
The brackets are made of an aluminium alloy accepting (silver or golden) anodized finish.
Clear plastic saddles enhance the transparency effect of the glass shelf.

Plus produit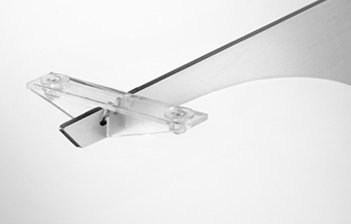 The curved line of the brackets gives the shelving an aerial look and optimizes the shelf space by saving useful height between the shelves.
Matières et finitions
Slot channels
Matière

Aluminium

Finition

AS: Satin silver anodized
O4S: Satin gold no. 4 anodized
ANNO: Satin black anodized
Shelf brackets
Matière

Aluminium

Finition

AS: Satin silver anodized
O4S: Satin gold no. 4 anodized
ANNO: Satin black anodized